Quarantine and Clearing Procedures
FLAG PROTOCOL
Usually one Q (YELLOW) flag when requesting clearance
('My vessel is "healthy" and I request free pratique' – flown until free pratique granted)
or two Q flags or Q+repeat when in quarantine
('I require health clearance' – again flown until health clearance/pratique granted).
On a sailing vessel the Q FLAG is flown on the starboard spreader under visiting countries ensign which shall always be flown higher out of respect .
The courtesy Ensign has the superior position on the Starboard Crosstrees.
Certain jurisdictions may require/request additional/alternate flags be flown, so it is handy to have a full set of flags aboard. It is suggested that captains obtain extra or heavy duty Q flags as it may be required to fly them for an extended period if in quarantine: the typical off the shelf Q flags are not designed for extended use.
(The international code of signals can be downloaded from https://msi.nga.mil/Publications/ICOS to learn other flags signals and uses.)
ICOS
The International Code of Signals (Pub. 102) publication contains descriptions and graphic depictions of a specific vocabulary of signals and the various methods used to transmit them. The Code is intended to cater primarily to situations related to safety of navigation and personnel, especially whe…

PLANNING AHEAD DURING EPIDEMICS
As countries lift – reinstate – ease or tighten quarantine and travel restrictions for private yachts, associated marinas,
marine service businesses will also be affected and need to establish a common protocol.
1) EXITING A COUNTRY ON A PRIVATE VESSEL
If you are able get a viable test for you and the crew and enter this test into your vessel's log book as a official ships record –
Record each crew member's temperature date and time and location and take a picture of the crew member with the thermometer and publish it into the LINE group for and additional witnesses and digital log and time stamp !
Save your test results into a physical and a digital folder ( google / dropbox a.m.o. will allow you to share those docks with others so it's a good choice )
Get you Zarpes or exits papers if avail
Minimize your interaction with Marina Staff and Government Officials
2) ENTERING A COUNTRY FROM THE HIGH SEAS
Notify Country of intentions via email ahead of time or logged phone call and write it in your ships log
If you have been at seas for over 14 days and can prove it ( GPS track and logbook ) upon arrival in a new country you must comply with the clearing in procedures
During a epidemic countries will designate your entry to a Quarantine area such as a Q dock or Q anchorage or Q dock within a marina.
It is your responsibility to comply with these rules and be sensitive to changes to these rule sets on a moments notice.
3) ENTERING A COUNTRY FROM ANOTHER COASTAL COUNTRY or ADJACENT NEARBY MARITIME AREA

Please check with official government website for the country you are visiting, to ensure:
If a health screening is needed prior to your departure (or be aware that a screening is to be expected at your arrival).

If a negative covid test is needed prior to your arrival AND if it needs to be within a certain time frame. i.e. A person must get and receive a negative Covid test within 10 days of arrival to new destination. (Currently, the Bahamas requires a negative test with 10 days of arrival)

Make sure your country of origin/passport is accepted for entry. Countries are imposing ongoing regulations and restrictions on visitors and your country of origin may not be allowed for clearing in. Please contact ports ahead of time for possible exceptions if persons/crew on a boat are of differing origin; if one origin is "banned" and another is "not banned".
4) MOVING AROUND A COUNTRY WITHIN THE SAME MARITIME AREAS AS A FOREIGN FLAGGED VESSEL

Please adhere to local guidelines and follow best practices – if clearing in and out with port captains is required establish an electronic methodology

Reduce your interaction in with individuals, wear masks, practice social distancing and adhere to local guidelines whenever possible.
Upon returning to your vessel wash your hands and clean any documents.
5) APPROACHING A MARINA, YACHT CLUB or FUEL DOCK
Enhanced cleaning practices – expected at Marinas
Make contact with facility via VHF email or Phone calls
Provide documentation, id's and payment electronically ahead of time
Vessel
Put on face-masks and post maneuvers wash your hands
Gloves are not needed, just after you touch a foreign/outside object be sure to use alcohol Gel disinfectant and/or wash your hands.
6) MARINA STAFF ASSISTING VESSELS AT THE DOCK
As a best practice, employees assisting at the dock should maintain social distancing while in phase one of reopening
guidance.
• Instruct your dock hand to maintain a 6ft distance when possible
• Require your dock hand to have a face-covering available (bandana, cloth mask, N95 mask, or other)
• Instruct dock hands to wash their hands often and not to touch their face. They should be following standard
hygienic practices regarding coughing and sneezing, utilizing the elbow.
• Provide dock hands with hand sanitizer and other means to clean and disinfect their hands.
• Have dock hands radio incoming vessels and ask if they need assistance approaching the dock (as opposed to
automatically jumping in to help)
• Encourage dock hands to use mooring hooks, when applicable, rather than handing lines from the customers
to the dock hand. This will help maintain social distancing.
If throwing lines to marina staff or other help full boaters please wash your hands after throwing or accepting lines to reduce the chance of infection
Minimize yelling – when mending the lines and connecting water and shore power wear face-masks
Assisting vessels at the dock. Good to VHF radio whether or not you want help with handling lines before you get there and ask marina staff they wear a mask and wash hands right before helping…
Be sure to wash your hands with soap and water right after handling lines. If you want to be extra precautionary you can wash the lines/cleat (anyplace someone else touched your boat) with soapy water or a bleach solution and remember the virus can only live on outside surfaces for so long:
72 hours on plastics

48 hours on stainless steel

24 hours on cardboard

4 hours on copper
THE CENTER FOR DISEASE CONTROL CDC has issued guidance related
to cleaning and disinfecting community facilities i.e. Marinas. Additionally, the CDC has provided a list of products that are best
suited for killing the virus.
It is important to note that Marinas deploy enhanced cleaning procedures
and adhere to worker protection and provide training to the staff.
Marina Staff Training must include a review of when Personal Protective
Equipment (PPE) is required, what PPE is necessary, and how to put on, take off, and properly dispose of PPE

• Office areas: OSHA's Blood Borne Pathogen Standard— desktops, phones, computers, chairs, door handles
• Ship store: door handles, countertops, phones, computers
• Docks: gates, PIN pads, card readers, handles
• Fuel dock: fuel pump nozzle, PIN pads
As a best practice, while under stay-at-home orders, yards at marinas and yacht clubs should remain secure so that
admittance can be monitored by the owners/operators. In the event a vessel owner or other persons wish to access
their vessel, they should be cautioned about social distancing and monitored to ensure no groups form.
This is important to protect your employees as well. Follow any local stay-at-home orders.
As different states lift stay-at-home orders and relieve restrictions on businesses, these guidelines will change. It is
best to think about how Marina operations will change as restrictions lift.
SHARED SHOWERS and BATHROOMS: things to consider:
Ventilation: are there windows that are/can be opened during for increased airflow.

Identify How often it's being cleaned and when the last tiem was

Quantity of toilets/showers in an enclosed space and high/low traffic of people using such facilities



BATHROOMS

Quantity of toilets/showers in an enclosed space and high/low traffic of people using such facilities
POOLS

Generally safe so long as pools are properly maintained with chlorine.

Chlorine kills bacteria and viruses.

Keep at least 6 feet away from others in a pool.

Extra precautionary: don't submerge head underwater if you are unsure about proper chlorine maintenance and take a shower after visiting pool.



ICE

Not recommended if you have to scoop your own ice from an icebox.

If push button ice machine available, use disinfectant after touching button, clean base of bucket, and wash hands once home.
LAUNDRY ROOM

Wear a mask when going indoors, wash/disinfect hands after handling money/coins, public facilities,

Get fresh air during laundry washing/drying.

If you paid for laundry services: place laundry bag with clean clothes on a towel or designated area in your boat that can be disinfected and wait (up to 3 days) to put laundry away or until we know exactly how long the virus survives on clothing.
CRUISERS LOUNGES

Wear a mask, social distance, airflow?, and try to limit quantity of time spent in an enclosed area of its being shared with others.
7) FUEL DOCK OPERATIONS
Fuel docks should maintain social distancing while in phase one of the reopening guidance.
Fuel dock operations will require a payment process that limits interaction.
Some marinas have implemented a pay-by-phone policy to limit close interaction.
Some marinas have implemented self-serve fueling with supervision from the ship store or fuel dock office.
In full serve operations, employees should remain socially distant from customers, use appropriate PPE, and wash hands or use hand sanitizer at the end of each transaction.
A similar procedure may be implemented for pump out operations
8) BOAT SERVICES
These are some guidelines to follow when performing boat service.
Technicians can work solo on a unit without the customer or others nearby.
If a technician needs physical help completing a task, other dealership team members can wear disposable gloves and N95 face masks to protect both employees.
All work spaces should be cleaned and disinfected before and after an employee performs service.
Technicians should use their own bins or carts to move parts and tools to and from the boat.
If an employee is finished using a cart, then it and any tools used should be disinfected.
Communicate with the customer using technology rather than in-person conversations—i.e.,

Emails
SMS, TXT, MMS messages
Phone calls
VHF Working Channel
Video voice or messaging apps such as

Whataspp
LINE
Skype
Zoom
Messenger
FaceTime

9) DELIVERIES OF PROVISIONS / PROPANE / PARTS / PACKAGES
Have delivery placed outside your boat or in a designated area of your boat.

If someone is assisting you with placing something inside your boat like batteries, be sure they take off their shoes, wear a mask, and offer disinfectant hand gel before entering.

Leave packaging such as cardboard boxes outside your boat

Wash hands with soap/water immediately after handling outside packages, parts, propane.
Extra precautionary measures: use disinfectant wipes to clean outside surfaces before bringing them back onto your boat; i.e. plastic food packages, parts, tools. Wash fruits and veggies before storing them on your boat.

10) FRIENDLY FELLOW PANAMA POSSE OR OTHER BOATERS ON THE DOCKS OR ON THEIR VESSELS
Assisting vessels at the dock. Good to VHF radio whether or not you want help on the Marina VHF or local net channel
Wear a mask when approaching the dock or helping a vessel dock
Be sure to wash your hands with soap and water right after handling lines. If you want to be extra precautionary you can wash the lines/cleat (anyplace someone else touched your boat) with soapy water or a bleach solution and remember the virus can only live on outside surfaces for so long:
72 hours on plastics

48 hours on stainless steel

24 hours on cardboard

4 hours on copper.
Have a sip or rum once the vessel is made fast to celebrate life
Sources "Nicole" on SV Maison de Sante, "Rob" on SV AVANT & Marina Association, Trade only
Additional Resources
CDC – Center for Disease Control
Communities, Schools, Workplaces, & Events
Cleaning and Disinfecting: Everyday steps, when someone is sick, and considerations for employers.
OSHA – Occupation Safety and Health Administration (OSHA)
List of cleaners and disinfectants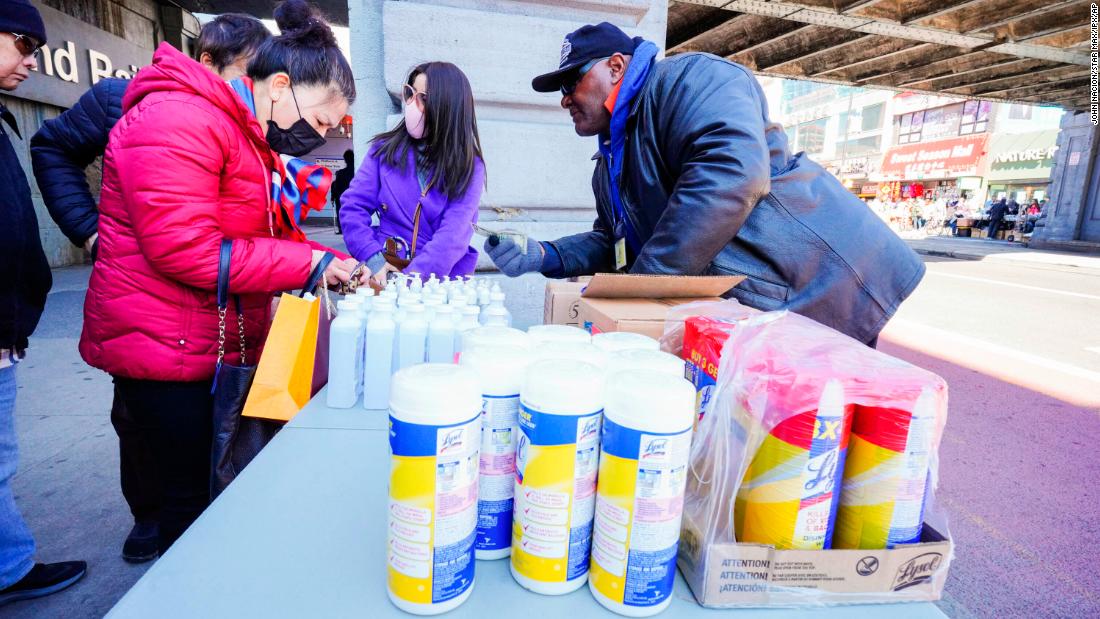 Here's a list of disinfectants you can use against coronavirus
The Environmental Protection Agency released a list of chemicals and products that it says are strong enough to ward off "harder-to-kill" viruses than SARS-CoV-2, the virus that's responsible for the disease.