1) Bahia Balena, Costa Rica
Octopus Garden update in Bahia Balena CR – we've stayed in this beautiful place over a week now bouncing between the south anchorage (town of Tambor) and north anchorage (beach of your dreams). It's too nice here to leave. Everything you need, nothing you don't. Store, bar, restaurants, taxi to the little town. Really enjoyed eating casada de pescado at Christina's, pizza at Henry's and the beach volleyball tournament

PICTURE OF THE WEEK


Jim & Susy
OCTOPUS GARDEN





2) Zihuatanejo, MX
Venue for the Zihuatanejo Guitar Fest – an array of incredible musicians opening night, with lots more to come this week.
Plus there's pickleball here!
Katy & Bill
KLICKITAT II3) Las Perlas, Panama

Here we are in Las Perlas and still loving it.
Since we got back from Europe we have been trying to decide where to go next! Panama really is a crossroads but having come from the north and already crossed the Pacific from the west it leaves east into the Caribbean or the south down the west coast of South America. Strong easterly trade winds make sailing in the southern Caribbean difficult before the end of March and then the hurricane season kicks in at the beginning of June, leaving us only couple of months to enjoy cruising there. We kicked around the idea of sailing south down to Equador but beating against the SE trades and the Humbolt Current did not really appeal and the few people we know who have been there were not terribly enthusiastic about it. So after mucho deliberation we have decided to stay here on the Pacific coast of Panama for the next few months . . . Da . . . Daaa!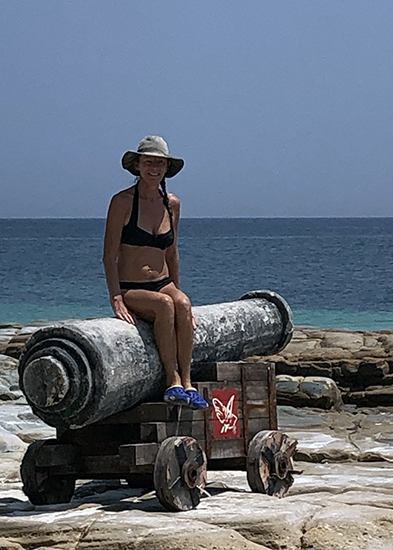 There were a couple of other factors which weighed in: firstly we thought we'd set up shop doing BnB/sailing tours on the boat. Contadora is easily accessible from Panama City and Islas Las Perlas is a beautiful archipelago with plenty of sheltered bays for kayaking and beachcombing and reefs for snorkeling and fishing; great for 4-5 days tours. We figured it would be fun to show people our lifestyle, it motivates us to explore more of the islands and it will replenish our dwindling boat fund. We've had four groups of guests this month, it's been a pleasure having them on board so it's all going well so far.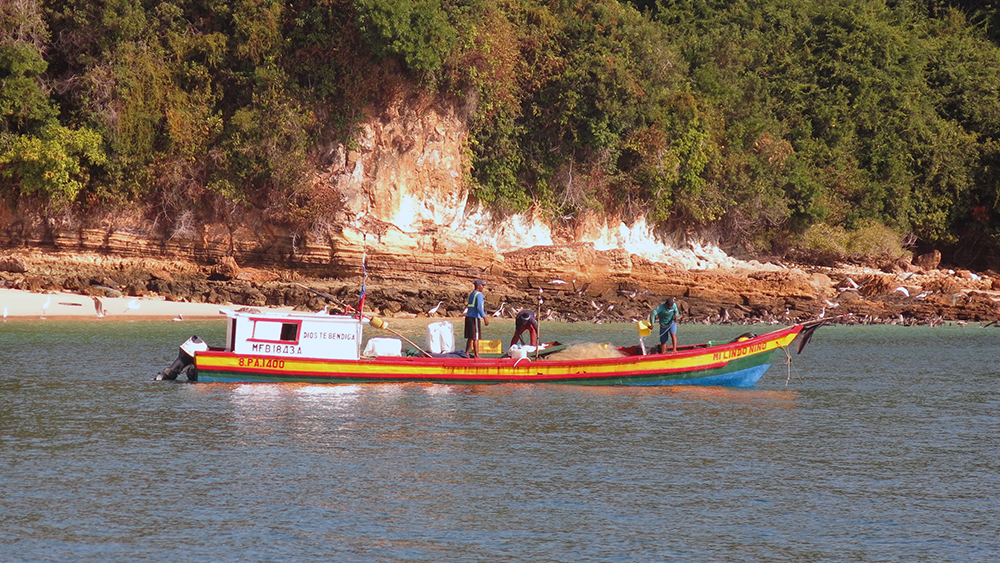 We are also keen to get involved in cleaning up the islands beaches in some way. Although the beaches look pristine most of them have plastic debris scattered along the high tide line. Exposed to sunlight the plastic breaks down into smaller plastic particles which are washed back out to sea and are easily ingested by various forms of marine life. The best way to break this cycle is to stop putting plastic into the oceans, the next best way is to remove the plastic when it is trapped on the beach. Here endeth the lesson!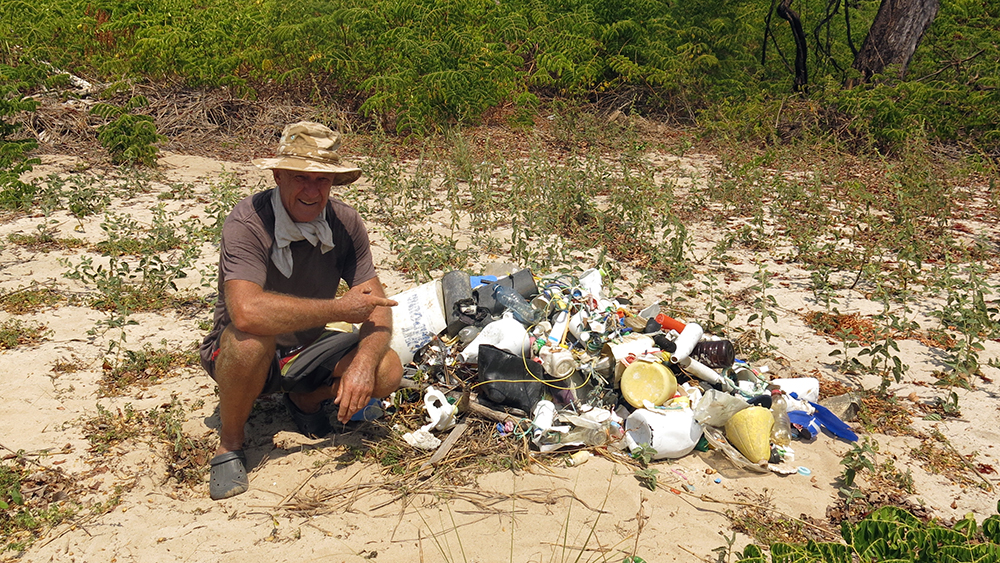 We are trying to work out a system to remove all existing plastics from the beaches and dispose of it via recycling and/or landfill, and to write a proposal in order to secure the necessary funding to make it happen. To scope out the project we cleaned up 50m of beach on the west side of Isla Mogo Mogo. It took four very hot and sweaty man hours and we collected about 1m3 of plastic. With over 8000m of beach distributed around 200 islands, this is no mean feat! What our role in all this might be we don't know, perhaps we'll combine sailing tours with plastic collection so you can come and have a holiday in paradise and feel good about contributing to cleaning up marine plastic. If you have any suggestions or ideas please get in touch – we'd love to hear from you.
Isla Contadora is a great little island to base ourselves at. It is the playground of the uber-rich and famous from Panama City who occasionally visit their mansions but tend to stay behind closed gates. Most of the other houses are owned by expats who live here semi-permanently or are small hotels or BnBs. A trickle of tourists come and go on the daily ferry from the City and at weekends a flotilla of gleaming white motor launches arrives and the anchorage is transformed; tents scattered on the beach, throbbing music, and jetskis zapping about.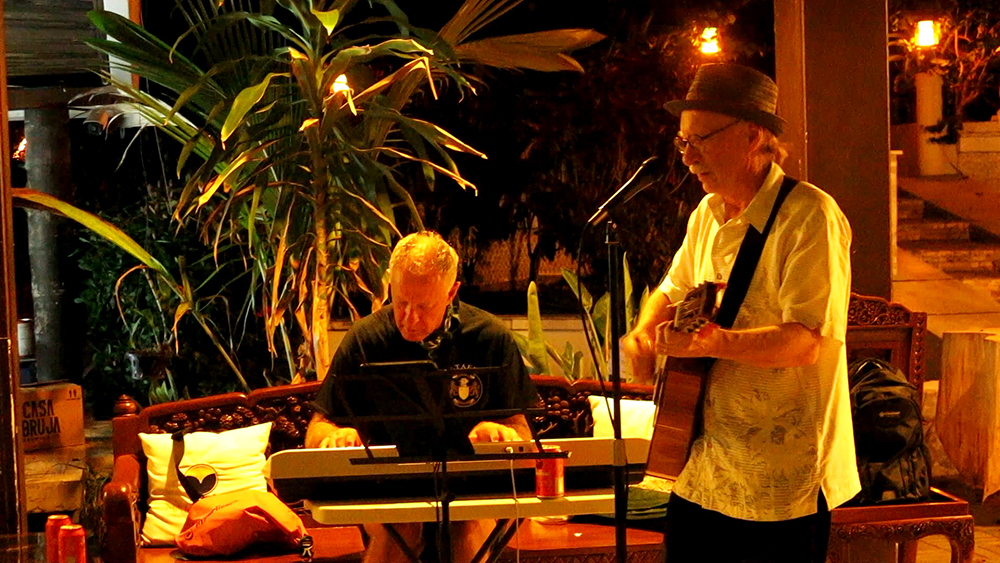 The tiki bar at the Mar y Oro hotel on the beach has a happy hour and we have met quite a few of the locals and tourists – it's getting to be quite sociable. On Saturday evenings Neil has been playing keyboards with John, a local guitarist, in the hotel restaurant. They play laid back blues and attract a bit of a crowd – it's good fun.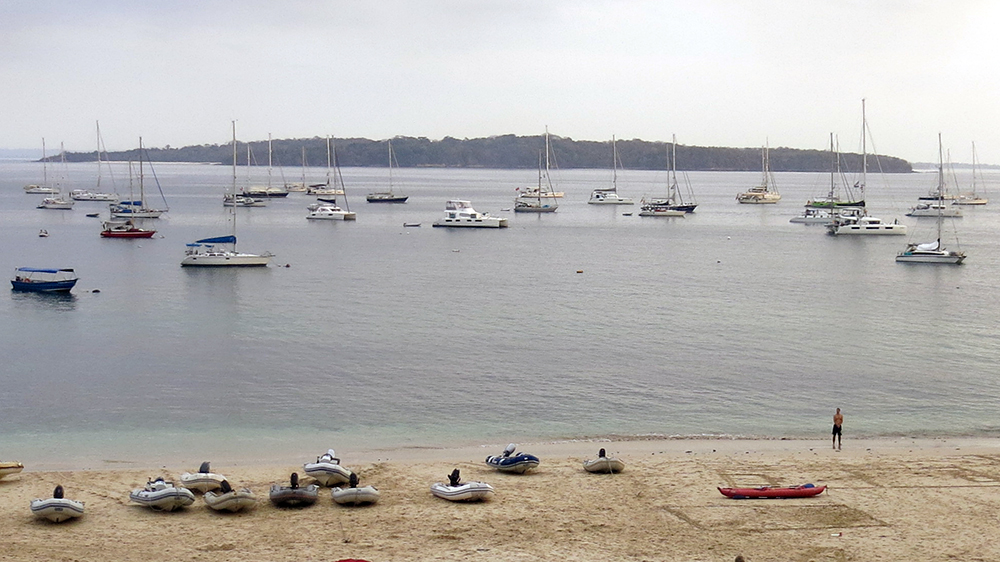 A couple of weeks ago the World ARC rally arrived in the anchorage. This is a group of some twenty five yachts that are cruising around the world together over a period of about thirteen months. They started in St. Lucia in the Caribbean in November, have just come through the Canal and gathered in Contadora to start Leg #3 – Panama to Galapagos. Distant Drummer was suddenly surrounded by yachts, the radio buzzed with British and other European accents and the beach was crowded with dinghies. It was great to meet some other yachties and hear their tales from Caribbean shores.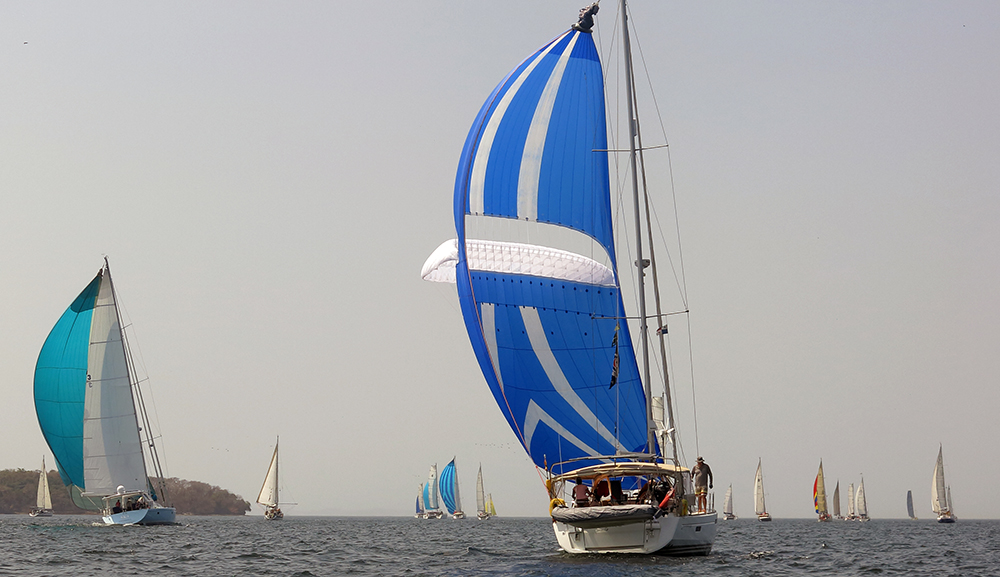 They only stayed for a couple of days then it was time to move on (they move a bit faster than we do!) We puttered amongst them in the dinghy as they gathered at the start line for the departure to Galapagos. It was quite a spectacle with their brightly coloured spinnakers raised to catch the light northerly breeze. As they sailed over the horizon we listened to their chatter on the radio and breathed a sigh of relief to be living life in the slow lane.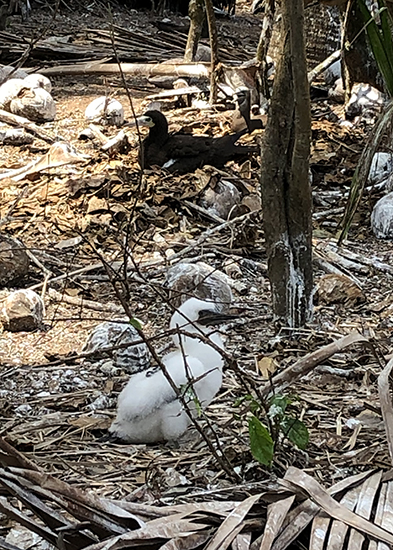 Although we have been here for a couple of months now we are still exploring islands we haven't visited yet. Isla Pacheca is a small island with a swathe of beautiful white sand beach and amazing clear turquoise water. We took a short walk in land looking for coconuts and stumbled upon a group of green-footed boobies nesting on the ground. They are totally unafraid of humans and sat on their nests making a croaky hissing sound to warn us to keep away. A half grown chick was strutting around showing off it's fluffy white downy plumage, it was a treat to watch.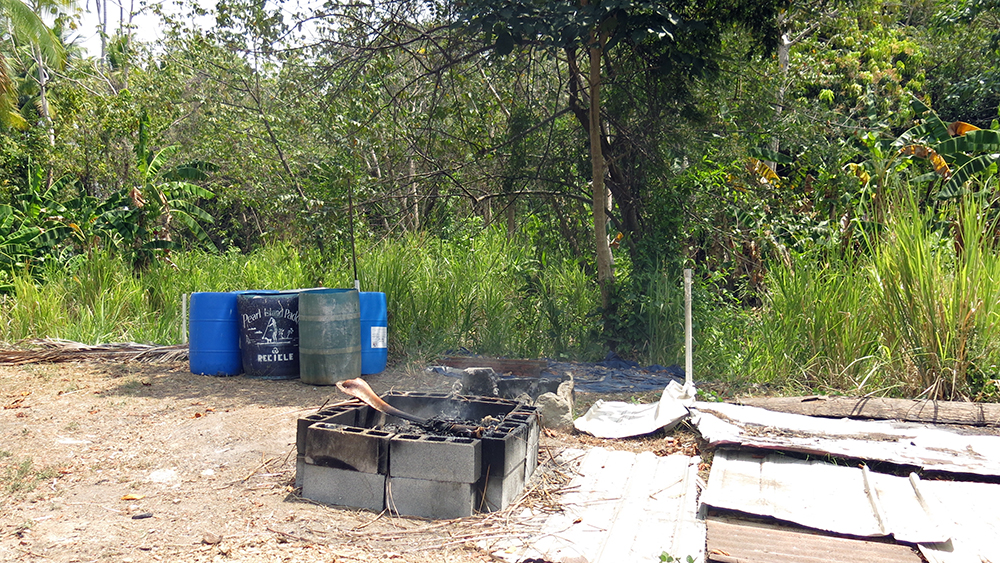 Isla Saboga is a large island which lies just to the west of Contadora and supplies the power and the workforce to its more glamorous sister. We went over to have a look around and to meet Alex, Yaiza and Jacob who run a campsite and sailing school there. One of their other projects is collecting garbage from the beach. They recycle the tins and glass but most of the plastic they currently burn. They have been experimenting with melting different types of plastic at specific temperatures to make plastic bricks for building construction but it is difficult to do without an oven to maintain an accurate temperature. It was interesting to hear about their experience and hopefully we can work together with them in the future.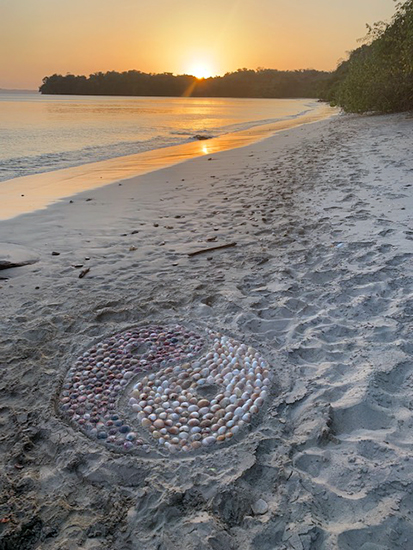 The only downside of our Contadora "paradise" is the very limited water supply on the island so next week we will head back to Panama City to fill our water tanks. While we are there it will also be Carnival which is a major holiday in Central and South America. For four days before Lent people are celebrating in the street with parades, street parties, music, dance and feasting. It should be lots of fun!
More great posts at https://carmody-clan.com/2019/03/05/

Neil & Suzy
DISTANT DRUMMER4) Marina Papagayo Panama Posse Party, Costa Rica

Blessed – Floating Stones – Figment – Carinthia – Footloose – Ay Caramaba – Sonomara – Paradisea – Mai Tai – Toccata
Panama Posse Get together
Presentation of the Burgee to Dan Eaffaldano and Marina Papagayo



Pool Shark Michelle / AY Caramaba !

Cheryl /Floating Stones and Lisa / Footloose


3 Motor Vessels, 4 Catamarans & 3 Sailboats
Going over the anchorages south of here at the awesome cruisers lounge at Marina Papagayo, Costa Rica
10° 38.4496 N 085° 39.2371 W
VHF 23A Tel: +506 2690 3600
Tel: +1 888-863-0301
info@marinapapagayo.com


For Rental cars in the Cocos area and in the marina contact Toyota
They bring cars directly to the Marina for about 50 US x day
Call +506 6054-3279
Francisco Bolaños – Zone Coordinator
fbolaños@toyotarent.com
5) Red Frog Marina, Bocas de Toros, Panama


We are now picking our way through the Trade Winds in the Caribbean but would like to let everyone know about Red Frog Marina in Bocas Las Toros on the Caribbean side of Panama. Truly a great find! A beautiful and protected location, reasonably priced considering La Playita and Shelter Cove. Friendly staff and access to all the resort amenities…. restrauants, edgeless pool, electric carts to take you around, and great WiFi! All at a discount ! We then spent a couple of weeks on Isla Providencia with some great cruisers and are now discovering Roatan while waiting for the Trades to die down.

Doug & Nancy
FISHVICIOUS





6) Chiapas, MX
Marina Chiapas buses: Walking up the exit from the marina to the main road, after maybe a tenth of a mile, you cross the road and you can catch one of the Combi buses (vans) going into the main town of Tapachula to the left. The van has a dolphin on the side and goes by the main airport and the first stop in town is the Sam's Club. Next is Walmart with the Home Depot across the street. The cost of the van is 25 pesos. It's about a half hour to Walmart. You pay when you exit the van.

In the Walmart mall, there are other shops like optical shops, shoes, GNC, etc. and a little food court. To get back home, just catch a van going the other way.

Robert & Carol
Singularity





7) Marina Ixtapa, MX IXTAPA update. The dredging of the main channel is finished. There are no longer restrictions on entry times. We saw the dredger working the sides.
The tide chart for our arrival predicted a +.5' tide and with our 7' draft we saw 1.1' under the keel just after the outer entrance.
While this was the only 'shallow' place, be sure to consult the tide chart when there are much larger tidal swings.

Jessica & Adam
VOLARE




8) Additional long term planning dates

Golfito Marina Village an IGY Destination Golfito, Costa Rica May 1st '19)
Rally Completion & Award Event Vista Mar Panama May 25th '19)
9) FREE GOOD NAUTICAL MEMBERSHIP

All relevant knowledge and fleet updates are being compiled into
Good Nautical an official 501(c)3 non-profit organization
All Fleet Update contributors will of course have access to all the shared data from Mexico through Panama.
Fuel docks, Anchorages, Marinas, National Parks, Routes, a.m.o.
Please email us to get your free login credentials and tutorial.
10) WEEKLY 2018-2019 PANAMA POSSE FLEET CHECK IN and MORNING NET on MONDAY'S at 16:00 UTC via LINE

It's a new way of doing things – please download and install LINE https://line.me/en-US/Â
Works on Android / ios / Windows / MAC OS

– Register using your vessel name as the USERNAME ie SV SEAGLUB

– Next search for panamaposse or SV Carinthia or Seaglub and befriend us –

– wait and accept your PANAMAPOSSE GROUP INVITE


11) PANAMA POSSE HOWLER MONKEY MARKETING and PROMOTIONPlease help us promote the Panama Posse with sailors, marinas, yachtclubs and chandleries
– if you are currently near a marina please print out this PDF in color and post it on the wall.
For extra fun (we did this last year) print it out and take a selfie with it on your vessel !


http://route.panamaposse.com/artwork/NOTICE_OF_A_RALLY_l.pdf


The Official Panama Posse Press Release – please forward it to your contacts and friends in the media

https://panamaposse.com/for-immediate-release-2018
12) Please reply to this email with any updates – your vessel location –
contenders for picture of the week – your favorite song for our list –
and we'll include it in the next Fleet Update

Dietmar & Suzanne

SV Carinthia

14) opt-out from the Fleet Updates simply reply with "REMOVE"